Cleanroom validation is considered a mandatory requirement before the cleanroom is put into direct operation. Clean room validation, if conducted periodically, will bring many great benefits to organizations and businesses:
Always ensure the required level of cleanliness.

Ensure the clean room operates continuously, meeting the requirements of production.

Cleanroom audits help proactively detect sources of contamination that can affect product cleanliness and quality. Timely find alternatives or eliminate.

Save maintenance and maintenance costs, improve the life of the clean room.

Regular cleanroom validation will help build customer confidence. The production process and product quality are always controlled in accordance with the specified standards.

It is easier for organizations and businesses in the process of inspection and evaluation by management agencies.
According to the regulations of the standards, for clean rooms with ISO level 5 or below, the maximum time to verify the concentration of particles in the air is 6 months. As for the ISO 6 or higher cleanliness level, the maximum time is 12 months. However, the appraisal period depends on the scope and frequency of use by organizations and enterprises. Organizations and businesses should pay attention to plan appropriate clean room validation.
Cleanroom validation is a rather complicated process. Based on the requirements, design and specific stages, we have a clean room appraisal process that meets the standards. Need to check the required items:
Particles in the air.

Air pressure difference.

Filter leak.

Room pressure.

Recover, demonstrate cleanroom's ability to remove particles in the room with filtered air.
HVAC CLEANROOM VALIDATION
An HVAC (Heating, Ventilation and Air-conditioning) system is an air handling system. This system controls the amount of dust moving in the room, creates a pressure difference, and regulates temperature and humidity. This creates different grades of cleanliness in the cleanliness classification standard. The HVAC system appraisal is an integral part of the cleanroom appraisal.
HVAC cleanroom appraisal services include:
Particles in the air.

Airflow

Air pressure difference.

Filter leak.

Temperature

Humidity

Room pressure.

Brightness

Noise

Recover, demonstrate cleanroom's ability to remove particles in the room with filtered air.
After completing the cleanroom assessments, the clean room is officially operational. However, it is necessary to periodically appraise the clean room to ensure the same cleanliness and clean room performance as before
FFU
Air Filter FFU (Fan Filter Unit) is a self-powered air purifier. FFU is used to supply clean air to the clean room for the production of semiconductors… The space for installation is the grid system on the ceiling.

FFU is one of the most popular clean room equipment. It can be used to generate clean air for a large clean room or to create local clean air for other equipment.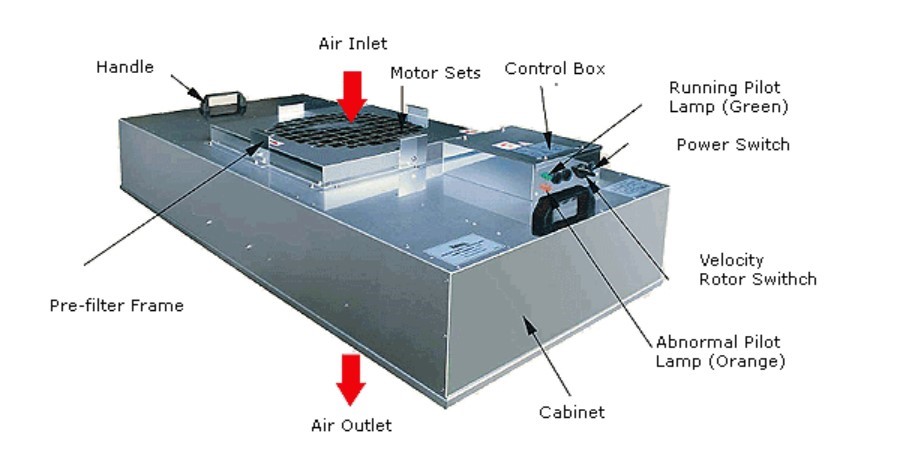 AHU
AHU (Air Handling Unit) is a system consisting of air handling units, heat exchangers and air ducts… Functions of these devices will be combined together to help for the central chiller air conditioning system to work better.

In other words, AHU is a heat exchanger used in HVAC systems or industrial workshops. Some industries with strict requirements on clean rooms such as cosmetics, pharmaceuticals, electronic technology… also put AHU into use. Currently, the AHU system is commonly used in commercial buildings, commercial centers with central chiller systems…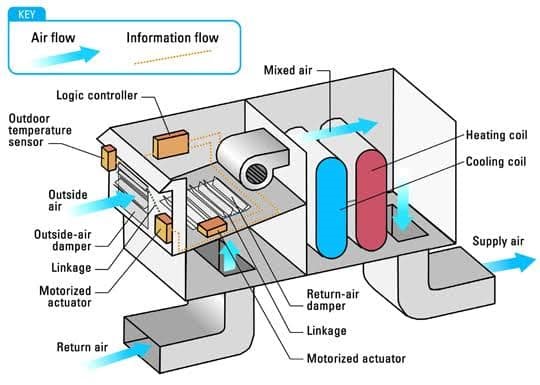 HEPA BOX
The clean room air supply door (Hepa Box) is the terminal device for the air supply system down to the clean room. It is the ideal terminal filter for ISO 100, ISO 1,000, ISO 10,000, ISO 100,000 class air conditioning systems. (Corresponding to cleanliness level A, B, C, D in GMP)

Hepa filter cartridge is the main equipment to purify the air before entering the clean room. It can be used for central air conditioning system in Medical, Electronic Pharmaceutical, Chemical, Cosmetic, etc.
AIR SHOWER
The intermediate air shower (Air Shower) is installed right in the middle of the dirty room and the clean room. It has the effect of removing all kinds of contaminants on people and fuels before entering the clean room.

In addition, the Air shower can also install equipment to control the number of people in and out to help the room always meet clean room standards.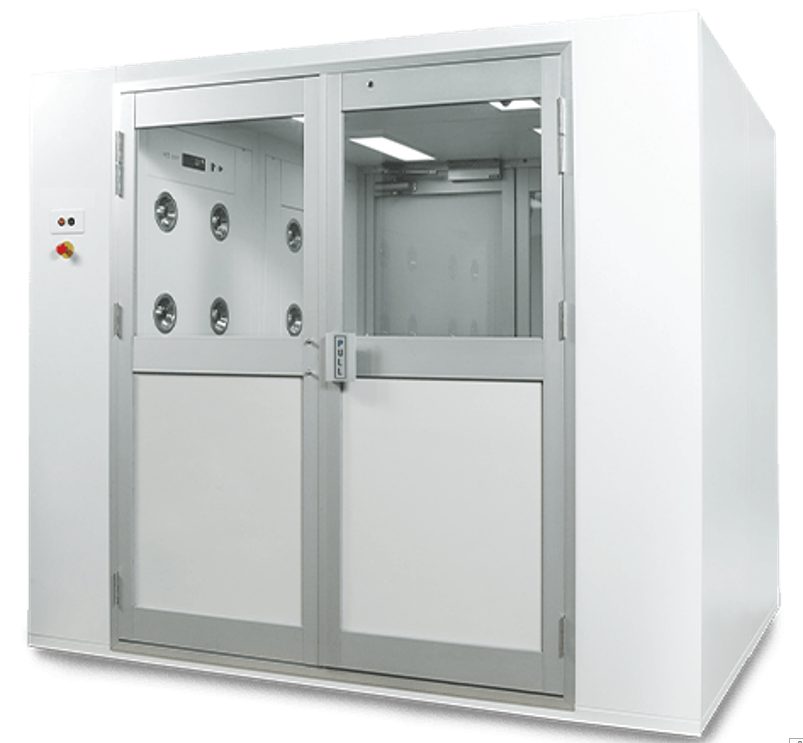 PASS BOX
Pass Box is used to transport small objects and goods into the clean room. It has the effect of reducing the number of door openings in the clean room and minimizing pollutants.

Used to transport goods between clean rooms or between clean rooms and unclean rooms.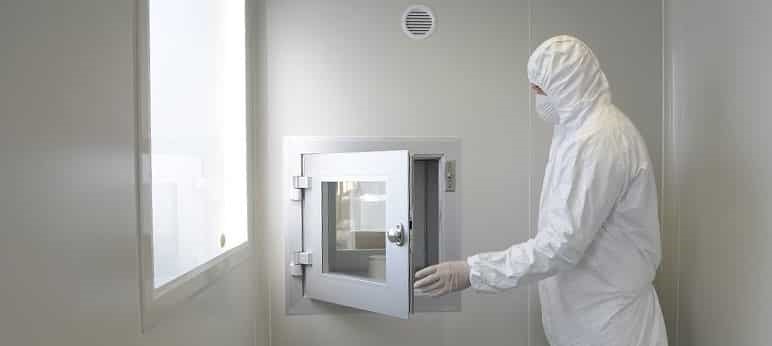 AIR LOCK
Air Lock is a small room with interconnected doors. It is built to maintain air pressure control between adjacent rooms.

The purpose of Air Lock is to prevent the invasion of contaminated particles, microorganisms from a less controlled area. Air Lock is also known as airlock or airlock.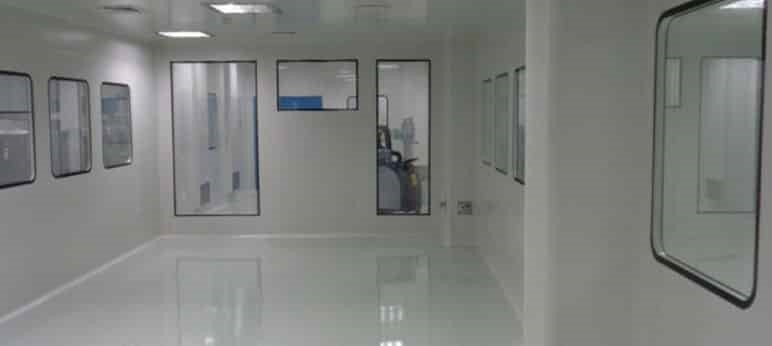 CLEAN BENCH
Clean Bench is a workbench controlled to prevent dust from getting on items. Clean air through the high-efficiency air filter blows directly into the work item. This helps to maintain a high level of cleanliness even in locations with a low level of cleanliness.

Clean tables are mainly used in clean rooms of factories and laboratories.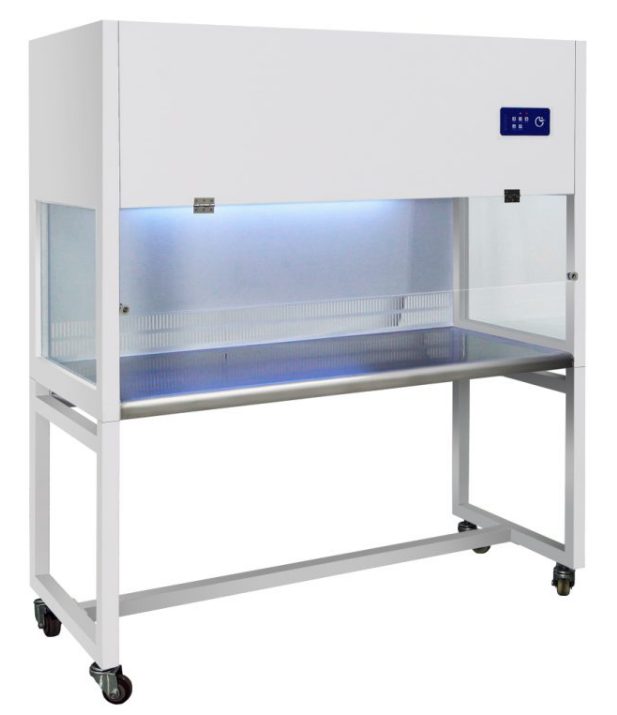 AIR FILTER
Air filters consist of fibrous or porous materials. Works to block and remove solid particles such as dirt, pollen, harmful bacteria, etc. These filters contain absorbents or catalysts such as coal (carbon). These substances help eliminate odors, gaseous pollutants.

Air filter Air filter is widely used in many fields. Especially in areas where air quality is important. Most notably in the construction of ventilation systems, dust filters for clean rooms and in engines.

.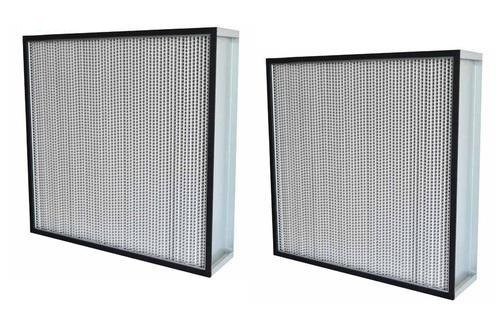 LAMINAR AIR FLOW UNIT
Laminar Air Flow is filtered air that moves in parallel planes. Then move to a certain location such as operating room, patient room, incubator …

This is a flow control method to prevent gas and bacterial contamination. In the area where the research works will not affect the environment.
Depending on the application and cleanliness level, additional equipment such as:
Dispensing Booth: Material weighing chamber

Laminar Air Flow Hood: Self-contained cleaning hood

Laminar Air Flow Trolley: Laminar Flow Trolley

BIBO: Bag in Bag Out (Safety filter replacement system)

Disinfection chamber.