Cleanroom standard GMP requires very high on materials used in cleanroom, all materials must be able to withstand frequent cleaning, and resistant to detergents, disinfectants, non-toxic materials be their cracks, must be smooth. Granular materials may not be used because of the high risk of contamination.
In addition, factors such as durability of materials, design for ease of installation, cleaning, and manufacturing costs should also be considered when designing a clean room.
1. STANDARDS ON MATERIAL USE IN GMP CLEANROOM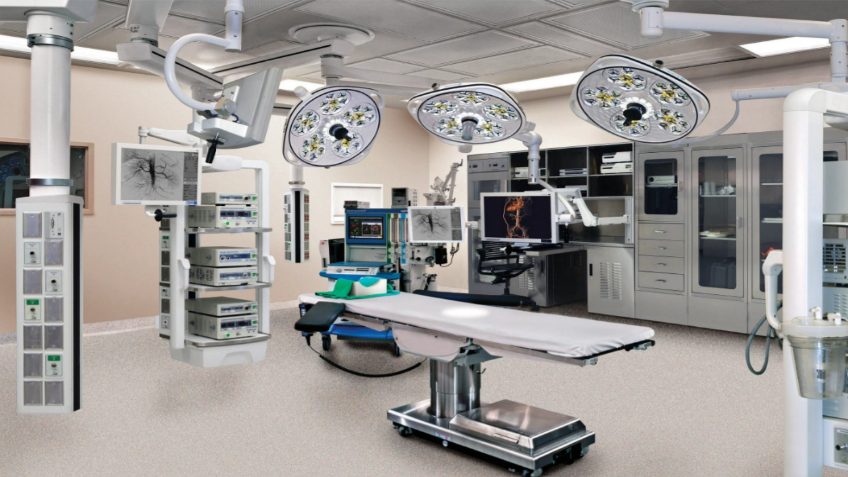 FLOOR STANDARD OF GMP CLEANROOM
The clean room floor is the most used place, so it is necessary to ensure the following criteria:
Must be smooth

Scratch resistance

Waterproof

Shock resistance

Easy to clean

Has high durability

No cracking
In addition, some cleanroom floors must meet anti-static requirements and have a large load capacity
Standard of cleanroom door GMP
Clean room doors need to meet the following criteria:

The door must be smooth

Easy to clean

Has a simple design

Must be sealed when not in use to ensure a positive pressure environment

Doors must be made of waterproof materials, usually made of steel, stainless steel, avoid wooden materials. (Almost same as clean room panel production)

Dustproof design
2. CLEANROOM STANDARDS LEVEL A, B, C, D
GMP classifies cleanrooms/clean areas into four levels: A, B, C, D. These levels relate to how effectively the cleanroom/cleanroom prevents contamination of the production environment and/ or processed by dust and microorganisms. The four levels have also established ranges for temperature control and air pressure control, as well as light and noise levels.
Level A: High priority or high-risk areas such as filling area, bottling area and packing area. Enamel coatings are commonly used in A-level areas to avoid turbulent air circulation, which increases the risk of contamination. Class A areas must maintain uniform airflow at speeds between 0.36 and 0.54 m/s.
Class B: Class B cleanrooms/hygienes are commonly used in sterile construction areas and filling areas, as well as areas around the A-level area.
Levels C and D: Levels C and D are common in lower risk areas during production and packaging without the stringent hygiene standards found in levels A and B.
In order to achieve class A, B, C, and D clean air, the number of air exchanges needs to be appropriate to the room size, equipment, and number of personnel present.
Normally, the number of air exchanges at :
D level : 20 times

Level C : 30 times

Level B : 40 times

Level A : 60 times
It is necessary to check the Hepa filter for leakage in accordance with ISO 146444-3, with a recommended frequency of every 6 – 12 months to ensure that the filter material, frame and internal joints of the filter are not exposed. rust.
The air cleanliness class for particulate concentrations is specified by the ISO 14644-1 Cleanroom Standard classification number. The maximum allowable particle concentrations for each threshold size are presented in Table 1.
The calculated concentrations of particles for the different threshold sizes in Table 1 do not reflect the actual distribution of airborne particles in terms of number and size and are intended only as criteria for classification.
LEVEL ISO
The maximum allowable concentration of particles, particles/m3, whose size is equal to or greater than the following values

>= 0,1 μm

>= 0,2 μm

>= 0,3 μm

>= 0,5 μm

>= 1,0 μm

>= 5,0 μm

ISO 1

10

ISO 2

100

24

10

ISO 3

1,000

237

102

35

ISO 4

10,000

2,370

1,020

352

83

ISO 5

100,000

23,700

10,200

3,520

832

ISO 6

1,000,000

237,000

102,000

35,200

8,320

293

ISO 7

352,000

83,200

2,930

ISO 8

3,520,000

832,000

29,300

ISO 9

35,200,000

8,320,000

293,000

Table 1 clean room classification standards according to ISO 14644-1
4 levels of cleanliness in a GMP plant according to the maximum allowable number of particles in the air
The maximum allowable number of particles with size greater than or equal to the size in the table per m3

REST STATEa
ACTIVE STATEb

Cấp sạch

0.5 µm

5.0 µm

0.5 µm

5.0 µm

A

3 520

20

3 520

20

B

3 520

29

352 000

2 900

C

352 000

2 900

3 520 000

29 000

D

3 520 000

29 000

No specified

No specified
4 levels of cleanliness in GMP factory according to the particle limit
Grade A: equivalent to ISO 4.8 calculated according to the particle size limit ≥ 5.0µm. A continuous measuring system should be used to monitor the number of particles in a Class A clean zone.

Level B: equivalent to ISO 5, is an adjacent environment for an area with level A.

Class C: ISO 7 equivalent idle state, ISO 8 equivalent operating state.

Level D: clean class with the lowest purity.
Use a particle counter in the air to determine the number of particles. The sample volume should not be less than 1m3 and the minimum sampling time is 1 minute.
It is recommended to use a portable particle counter with a short sampling tube to grade cleanliness levels to avoid the loss of particles with a size of ≥5.0 µm.
Areas with class A-D must be controlled for microbiological cleanliness in the operating state. When aseptic procedures are carried out, microbiological examination should be performed regularly with methods such as: agar plate placement, air sampling, and surface sampling (e.g., smears and agar plates) contact
| | | | | |
| --- | --- | --- | --- | --- |
| CLEAN LEVEL | AIR SAMPLING(CFU/M3) | PLACE AGAR PLATE (DIAMETER 90MM)(CFU/4) | CONTACT AGAR PLATE (DIAMETER 55MM (CFU/DISK) | PRINTED GLOVES (5 FINGERS) (CFU/GĂNG) |
| A | < 1 | < 1 | < 1 | < 1 |
| B | 10 | 5 | 5 | 5 |
| C | 100 | 50 | 25 | – |
| D | 200 | 100 | 50 | – |
Appropriate warning and action limits should be set for particle and microbiological monitoring results. If these limits are exceeded, operating procedures should describe corrective actions.
3. CLEANING LEVELS IN STERILE DRUG PRODUCTION
Level A: Local area for high-risk operations, such as vial closure and aseptic sealing. (Created by a unidirectional air blower system, with a speed of 0.36 – 0.54 m/s at a specified location 15 – 30 cm below the final filter or air distribution system)

Level B: In final sterile sterile preparation and vial, this level is the background medium for a grade A zone.

Levels C and D: Clean areas for performing less critical steps in the production of sterile products or performing operations in which the product is not directly exposed.
The 4 levels in a factory GMP that need to be correctly established and defined are extremely important in drug manufacturing. Helps ensure product quality and safety for users, any mistake can reduce the quality of the finished product.
4.  GMP CLEAN ROOM PROCESS FOR IN/OUT
Anyone entering a Class D restroom must change into their shoes, put on their cleanroom uniform, and place a mask on their face. For levels A-C, the following steps must be followed: Take off shoes, undress, shower, put on clean clothes, wash and disinfect hands, enter clean room through air shower.