With the strategy of expanding production and business activities, INTRACO E&C has cooperated with Minh Cuong Group in the field of manufacturing clean room panels, ducts and with Long Thai Steel Company in the field of steel structure production. .
1. AIR DUCT FABRICATION WORKSHOP
Air Ducts are increasingly popular materials in buildings, especially in industrial plants. Any building needs a good ventilation system. It helps long life service. In particular, our products are mainly used for clean rooms in different fields.
Air Ducts in clean room is a type of duct installed in clean rooms – where clean air is required to a certain extent. Normally, clean room ducts are applied in pharmaceutical factories, Phone parts production, semiconductor technology, cosmetic and food factories, etc.
It's different with conventional ducts.. Cleanroom ducts requires advanced and modern production technology. The technical requirements as well as the aesthetics of the product are many times higher than that of conventional ducts.
For fast and safe ventilation, you need a reputable cleanroom duct supplier. If you have a need to use this product, please contact us directly
As a pioneer in the field of manufacturing ducts, INTRACO E&C provides to the market a variety of ducts with different materials, sizes, and designs. Particularly, the clean room duct of INTRACO E&C is highly appreciated by the project owner. Products have been present in many factories and enterprises and received positive feedback from customers.
All cleanroom ventilation ducts at INTRACO E&C are manufactured on modern technology and international standards. The production process is always supervised by engineers and operated by a team of experienced workers. Therefore, the best product quality is always guaranteed.
Classification of industrial duct systems
Currently, people divide air ducts into many types based on characteristics such as:
Classification of ducts by function: fresh air supply, air return, ventilation, and exhaust ventilation.

Classification of ducts according to wind speed: high-speed ducts, low-speed ducts.

Classification by residual pressure: low, medium, high pressure ducts.

Classification by installation location: suspended ducts, underground ducts.

Classification by pipe cross section: rectangular duct, square duct, round duct.

Classified by materials: galvanized corrugated iron, stainless steel, PVC…
However, in fact, on the market today, air ducts are known with 4 main and most popular types: square ducts, round and flexible ducts, and fireproof ducts.
Machinery & Equipment
With a system of well-invested machinery, the most advanced technology and modernized with large capacity. Produce products of perfect quality.
| | | |
| --- | --- | --- |
| | | |
| Duct production line | Round air duct production machine | TDF flange and duct flange production machine |
| | | |
| Edge bend machine | Duct Edge Folding Machine | CNC Plasma Cutting machines |
| | | |
| Rotary machine | Resistance Welding Machine | Round pipe twisting machine |
Product manufacturing: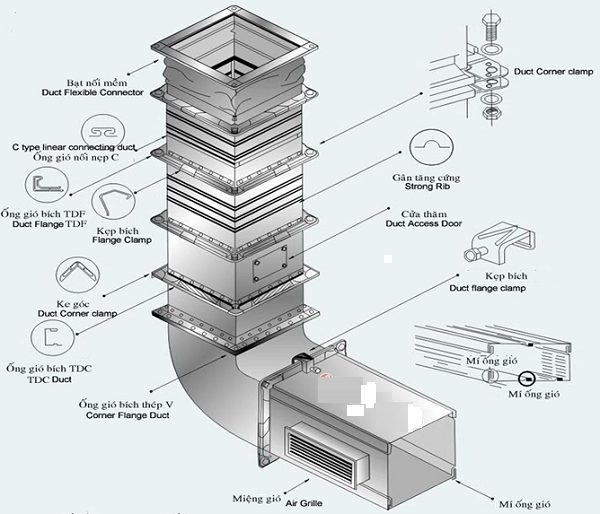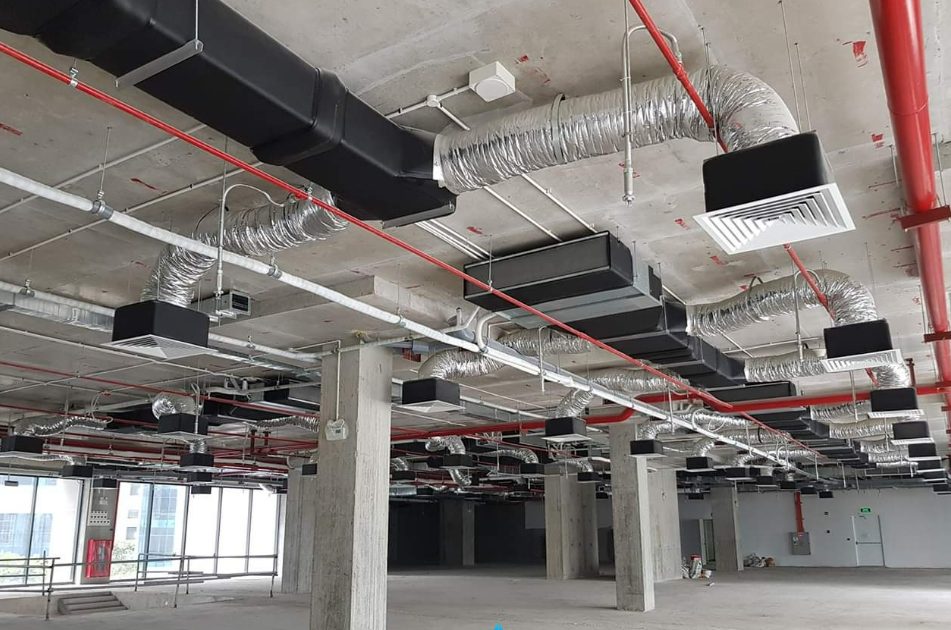 Ducts and duct accessories
| | | | |
| --- | --- | --- | --- |
| | | | |
| CONCENTRIC REDUCER | ELBOW PIPE | CROSS PIPE | SPIRAL PIPE |
| | | | |
| Z BENDING PIPE | Y BRANCH PIPE | TEE PIPE | ATTENUATION PIPE |
| | | | |
| SQUARE DUCT | Z BENDING SQUARE DUCT | SQUARE DUCT 90 ELBOW | SQUARE REDUCER DUCT |
| | | | |
| 3 WAY DUCT | SQUARE ECCENTRIC REDUCER | SQUARE/ROUND REDUCER | ATTENUATION SQUARE DUCT |
Air valve and air outlet
| | | | |
| --- | --- | --- | --- |
| | | | |
| ROUND AIR VALVE (R-VCD) | HAND-OPERATED AIR VALVE(D-VCD) | FIRE DAMPER VALVE (FD) | ELECTRIC WIND VALVE |
| | | | |
| ONE-WAY RECTANGULAR AIR VALVE | DIFFUSION VENTS | ROUND LOUVER | DOUBLE SPOKES VENTS |
| | | | |
| SINGLE SPOKES LOUVER (SAG) | SPOKES LOUVER T(LG) | RETURN AIR VENT WITH DUST FILTER | INSECT TRAP DOOR |
2. STEEL STRUCTURE FABRICATION WORKSHOP
Currently, steel structure buildings are being widely applied in industrial, civil, military construction, etc. Steel structure buildings are mainly composed of steel structures
Steel structure is the bearing structure of construction works designed and constructed by steel. This type of structure is widely used in the construction industry, especially in large-scale construction works (Steel structure buildings) because of the useful properties of steel. Due to the high strength of steel, this structure is very strong and requires less material than other types of structures such as concrete structures or wooden structures.
INTRACO E&C has a full range of machines, equipment and workshops specializing in manufacturing and fabricating construction structures with the highest requirements according to international standards. With a thickness of design and construction of industrial projects. INTRACO E&C always meets customers' requirements at the highest level and at the most competitive prices.
Machinery and Equipment
| | | |
| --- | --- | --- |
| | | |
| CNC cutting machine – Thickness up to70 mm | Bending Machine | Htdraulic pressing machine 650T |
| | | |
| Welding Machine CO2 | Hydraulic Press machine 220T | Saw machine |
| | | |
| Drilling machine D40 | Magnatic Drilling Machine | Saw cutting |
Gia công chế tạo 
| | | |
| --- | --- | --- |
| | | |
| Structure Welding | Forming machine | Inspection after fabrication |
| | | |
| Drilling hole for structure | Grid Blasting of structure | Painting for structure |
| | | |
| Installation structure | Installation structure | Installation structure |