WORKING AT HEIGHT
Working at height remains one of the biggest causes of death and major injury. Aerial work is work in any place, including a dwelling, on or off the ground, where a person can be injured if they fall from that place. The entry and exit to the workplace can also be an elevated workplace
INTRACO E&C is aware of its responsibility in this regard. Always take safety measures to prevent accidents from above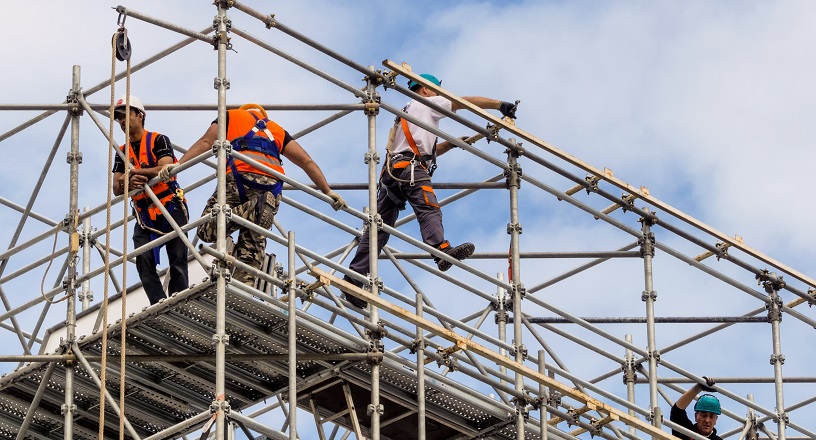 WHAT TO DO TO REDUCE THE RISK OF ACCIDENT FROM HIGH?
Make sure work is properly planned
Supervised and implemented by competent people with skills
Knowledge and experience to do the job.
Follow the General Precautions to manage risks from work at height
Use the correct type of equipment for working at height.
Reasonable approach when considering preventive measures.
Analyze hazards and precautions before undertaking any work at height
Get training before working at height
Fully equipped with personal protection, especially seat belts
COUNTER MEASURES
Candlestick:
Must assess risks and study conditions in the workplace prior to undertaking work
Before working at height, work through these simple steps:
Check the area around for basic conditions such as scaffolding, ladders, handrails, fall nets, etc.
Follow basic rules when climbing stairs 100% wearing and Hook safety when working at height greater than 1.8M.
Anchor hooks must be placed in a suitable position.
Ensure clear and safe passageways
Work as much as you can from the ground
Regular inspection of scaffolding system and working platforms
Provides protection from falling objects
Do not:
Overload ladders: consider equipment or materials that workers are carrying before working at height. Check pictures or labels on ladders for information
Overload on ladders or ladders
Rest ladders on weak upper surfaces, such as glass or plastic gutters
Use ladders or steps for strenuous or strenuous work, only for light work for short periods of time (for example, up to 30 minutes at a time)
Let anyone incompetent (without the skills, knowledge and experience to do the job) work at height.